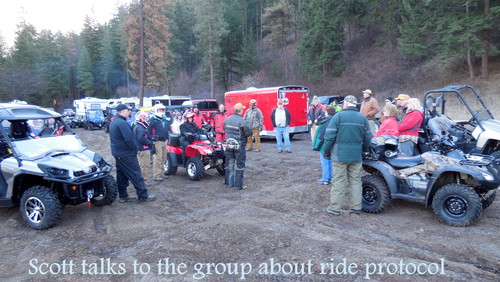 Founded in September of 2007, the Cascade Quad Squad has grown to over 100 members and several corporate members. We are dedicated to enjoying, promoting and protecting the sport of ATVing. We hold scheduled rides year-round as well as impromptu rides to enjoy our public lands. The club works with various agencies to ensure that adequate riding opportunities exist for the general public. We volunteer our time and effort toward maintaining and acccessing our riding opportunities. Our main purpose: to have lots of FUN! Come and join us! Club meetings are the second Tuesday of each month at 7:00PM at Round Table Pizza near Fred Meyers on 40th.
Our club has performed several service projects. We have worked cooperatively with the DNR on trail maintenance as well as clean-up and litter control. The club also has done a great deal of work with the USFS on WATV routes,mapping and general trail education to fellow riders. We have also done highway cleanup to assist the DOT.
The Cascade Quad Squad encourages and welcomes new members. Feel free to attend one of our monthly meetings or drop us an email on the Contact Us tab on our website.
We thank our Corporate Members for their support of the Cascade Quad Squad